Jump to navigation
Jump to search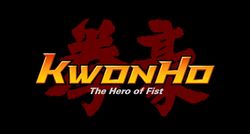 | | |
| --- | --- |
| Release date(s) | |
| Genre(s) | Fighting |
| Players | 1+ |
| Latest version | 2.04 |
Kwonho: The Fist of Heroes was a short-lived free web-based 3D fighting beta game produced and developed by NHN. The game, hosted on Ijji, put players in control of customizable fighters that they could use to face off against other players and take on various other challenges. As of November 14, 2007, service for Kwonho was discontinued on the Ijji servers.
Since the game was hosted by Ijji, the only method of playing the game was through the use of Internet Explorer. The game also required a fresh install (bundled with the 255MB download of the game) of Microsoft's DirectX 9.0c runtime. Because it was still in the beta section of development, the game was lacking features that were advertised within the game (for example the North American server wasn't up and players cannot access gyms).
Over time, players could gain experience to set themselves in a ladder ranking and with rewards of skill points that they could use to upgrade their most favored techniques. Credit was also a reward for meeting certain challenges and it could be used to purchase additional skills and items to modify characters. Since the game was run by Ijji, the ability to use "G Coins" to purchase in game items with real money was also an option.
Table of Contents