Jump to navigation
Jump to search
This is the first game in the LEGO Star Wars series. For other games in the series see the LEGO Star Wars category.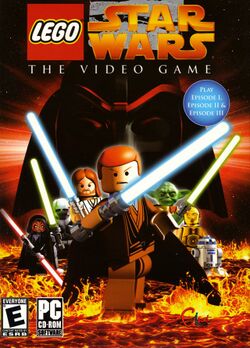 This guide is for the console and PC version. For the GBA version, see LEGO Star Wars: The Video Game (Game Boy Advance).
LEGO Star Wars: The Video Game is the action-adventure video game version of the first three (and a small part of the fourth) episodes of the Star Wars series. As the name might imply, all the characters are made of LEGO pieces. It is the prequel to LEGO Star Wars II: The Original Trilogy, and has 56 playable characters, each with a special ability (except the Gonk Droid, PK Droid, and Chancellor Palpatine). It was first released on April 5, 2005.
Table of Contents