Jump to navigation
Jump to search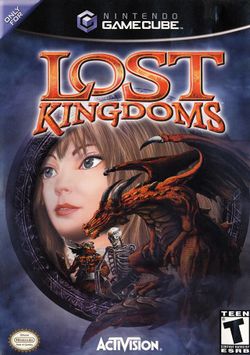 Neoseeker Related Pages
Links
Lost Kingdoms is a video game developed by From Software and published by Activision in North America and Europe. The original Japanese version of this game is simply known as Rune (ルーン, Rūn?). The game was released in Japan on April 25, 2002; in North America on May 27, 2002; and in Europe on August 9, 2002. Lost Kingdoms is a card-based action role-playing game where battles are fought in real-time.
A sequel, Lost Kingdoms II, was released a year later.
Lost Kingdoms is best known for its unique system of combat. Battles are played in real-time, where the player has to keep their character moving to avoid enemy attacks and plot tactical points to attack. Katia uses her cards for battle purposes only, as she cannot fight. Lost Kingdoms also has a multiplayer system in which two players can use their own decks to battle one another. When compared to single-player, the multiplayer has various restrictions to make the fight fair. Healing and one-hit kills are forbidden. Since some cards have the ability to return used cards back to the deck, these types of cards are also prohibited.
Table of Contents