Jump to navigation
Jump to search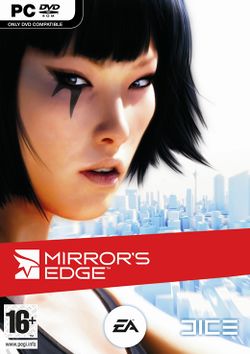 Mirror's Edge is a first person action-adventure video game developed by EA Digital Illusions CE (DICE). The game was released on PlayStation 3 and Xbox 360 in November 2008 and was released for Windows in most regions by late January 2009.
The game was announced on July 10, 2007, and is powered by the Unreal Engine 3 with the addition of a new lighting solution, developed by Illuminate Labs in association with DICE. The game has a realistic, brightly-colored style and differs from most other first-person perspective video games in allowing for a wider range of actions, such as sliding under barriers, tumbling, wall-running, and shimmying across ledges. It also affords players greater freedom of movement, in having no HUD, and in allowing the legs, arms, and torso of the character to be visible on-screen.
The game is set in a society where communication is heavily monitored by a totalitarian regime, and so a network of runners, including the main character, Faith, are used to transmit messages while evading government surveillance.
Table of Contents