Jump to navigation
Jump to search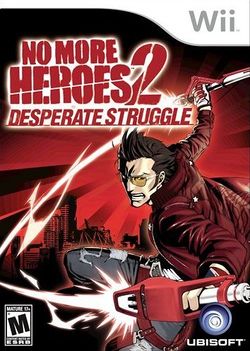 No More Heroes 2: Desperate Struggle (ノーモア★ヒーローズ 2: デスパレート・ストラグル, No More Heroes 2: Desperate Struggle?) is an action video game developed for the Wii video game system. It was directed by Suda51, developed by Grasshopper Manufacture, published by Ubisoft and Rising Star Games, and was released on January 26, 2010 in North America, and will be released on May 28, 2010 in Europe. Plans for release in Japan are currently undecided.
Travis Touchdown, the series protagonist, has withdrawn from the ranks of the UAA for three years. During those three years, Travis has fallen to 51st place, and Santa Destroy has been taken over and renovated by the "Pizza Butt" corporation, who in the first game were looking to open restaurants in the town.
Sylvia Christel, the "agent" who convinced Travis to join the UAA, has returned to invite him back into the ranks once more. Motivated not only by Sylvia, Travis is also fighting to avenge the death of someone close to him.
Table of Contents