Jump to navigation
Jump to search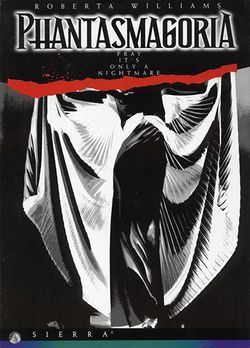 Phantasmagoria (ファンタズム, Phantasmagoria? Phantasm) is a horror-themed video game created by Sierra Online for the DOS and Windows platforms, and later for the Sega Saturn in Japan. The game was released in 1995 and was followed by a sequel, Phantasmagoria: A Puzzle of Flesh released in 1996.
Made during the height of the "interactive movie" boom in the computer game industry, Phantasmagoria is notable for being one of the first adventure games to use a live actor as an on-screen avatar. The game was released on seven CDs to accommodate the massive amount of video generated by this process, the creation of which was contracted by Sierra to Kronos Digital Entertainment (who had previously worked on Sierra's King's Quest 6). Large portions of data were repeated on each CD, to avoid disk swapping when playing the game.
The story by Roberta Williams, somewhat similar to that of The Shining, revolves around paperback writer Adrienne Delaney, who has together with her husband Donald Gordon just bought a remote, enormous mansion previously owned by a famous magician in the late 19th century, Zoltan Carnovasch (Carno). Adrienne is hoping to get in the mood for writing her next novel and Don, a photographer, wants to photograph things. Immediately upon moving into the house, Adrienne begins having nightmares. Unknown to the happy two, Zoltan the magician was into black magic and had summoned an evil demon which possessed him, causing him to murder his wives. After releasing the demon, it is up to Adrienne to try and trap the demon and escape with her life.
Table of Contents