Jump to navigation
Jump to search
This is the first game in the Red Steel series. For other games in the series see the Red Steel category.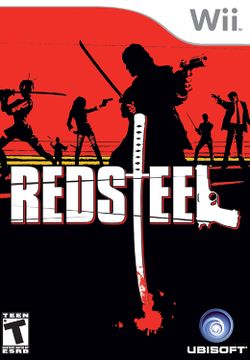 Neoseeker Related Pages
Links
Red Steel is a first-person shooter video game published by Ubisoft for Nintendo's Wii console. The game takes advantage of Wii's motion-sensitive controller, along with the Nunchuk attachment, to control a katana and a firearm. It was developed by the Ubisoft Paris studio and was unveiled in the May 2006 issue of Game Informer. It was released on November 19, 2006 in North America, the date of the first Wii launch. A sequel to the game, Red Steel 2, was announced by Ubisoft for release on March 23, 2010.
The player controls Scott Monroe, who has to track down his Japanese girlfriend, Miyu Sato, in a journey through shooting and slashing into the Yakuza society. What's unique is not just Japanese sword fighting, but also how you progress through the story whether you let the sword fighters live or die. The other uniqueness is learning swordplay techniques and things you need to survive as you shoot your way through the game.
Table of Contents