Jump to navigation
Jump to search
This is the first game in the Sniper: Ghost Warrior series. For other games in the series see the Sniper: Ghost Warrior category.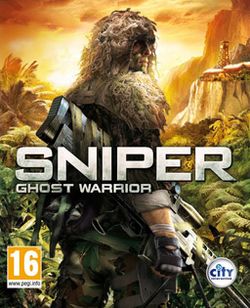 Neoseeker Related Pages
Links
Sniper: Ghost Warrior is a first-person shooter for the Xbox 360 and Windows. It was released on June 29, 2010 for the Xbox 360, with the Windows version released on June 24, 2010 via Steam. A PlayStation 3 version was released in May 2011.
The game is based around the role of the military sniper, which the developer has noted that the public interest of which has increased thanks in large parts to shows on channels like the History Channel or the Military Channel. The game's objective is to insert players into the role of an elite sniper team set into a hostile area in an attempt to help the rebels of Isla Trueno, a fictitious Latin American country, fight against the force who has toppled their government in a coup d'état.
Table of Contents