Jump to navigation
Jump to search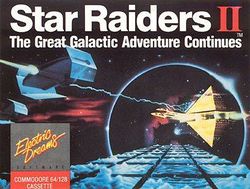 Star Raiders II is a shooter game developed and published by Atari that was released in 1986 for the Atari 8-bit family. It was later ported to the Amstrad CPC, Commodore 64, and Sinclair ZX Spectrum. The game was originally developed as part of a tie-in with the movie The Last Starfighter, which featured an arcade game of the same name as part of its plotline. Versions for the Atari 5200 and the Atari 8-bit family were developed in 1984, although those were never released. Later the tie-in was dropped, and the game converted into a sequel to Star Raiders by changing a number of gameplay elements. The gameplay remained quite different than the original Star Raiders. Versions with The Last Starfighter branding made their way into warez channels, so some emulated ROMS display the title.

From the back of the box.
"The future of the Atarian Federation is in your hands as the evil Zylon Master, Chut, plans to destroy the Celos IV star system. Pilot the hottest fighter in the galaxy, the Liberty Star, and wipe out the Zylon Master Force and its super Attack Bases."
Box artwork
[
edit
]
Table of Contents