Jump to navigation
Jump to search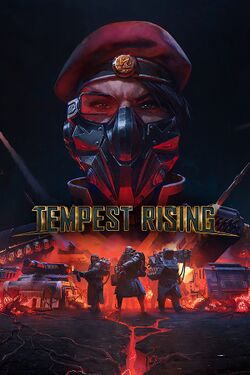 Tempest Rising is an upcoming real-time strategy game developed by Slipgate Ironworks with the help of 2B Games, and jointly published by THQ Nordic and 3D Realms. The game is still in development with a release date targeting sometime in 2023. It will not be released in early access, but several rounds of closed beta tests are planned.
The game takes place in an alternate 1997 where the world has been ravaged by nuclear war. The campaigns follow the Global Defense Forces and the Tempest Dynasty as they wage a global war to control the valuable Tempest resource. A third faction is present and is implied to be related to the Tempest's origin.
Gameplay
[
edit
]
It is a classic real-time strategy game intended to be a homage to past popular titles such as Command & Conquer and StarCraft. Similar to Command & Conquer, players can crush infantry with tanks, capture structures with engineers, and garrison buildings with troops to fire out of.
The game features two 15-mission campaigns, one for the Global Defense Forces and one for the Tempest Dynasty.
The game includes skirmish and multiplayer modes, along with an Elo rating system for online matchmaking.
Table of Contents
GDF Campaign
DYN Campaign