Jump to navigation
Jump to search
This is the first game in the Top Gun series. For other games in the series see the Top Gun category.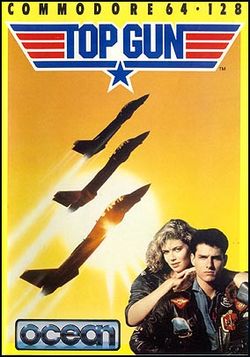 For the NES game developed by Konami in 1987, see Top Gun (NES).
Top Gun is a flight-combat simulation game developed by Ocean for release on several popular European home computers in 1986. The license to publish the game in the United States was largely handled by Thunder Mountain which distributed the game in 1987. The Tom Cruise film featured an F-14 Tomcat plane, and this licensed game recreates this. Viewed from the cockpit in full 3D, the game is a straight head-to-head duel, against another player or the computer. You are armed with missiles (which puts you in control of a small target zone that must remain on your opponent for 3 seconds), flares and cannons (which overheat when overused)- use these more wisely than your opponent. Pay attention to speed and altitude too. The computer has 3 planes to throw at you, of which the last is the toughest, while each player in a 2-player game also has 3 "lives".
Table of Contents