Jump to navigation
Jump to search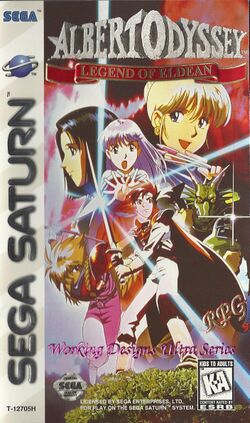 | | |
| --- | --- |
| Japanese title | アルバートオデッセイ外伝 ~レジェンド オブ エルディーン~ |
| Genre(s) | RPG |
| Modes | Single player |
| Rating(s) | |
Albert Odyssey: Legend of Eldean, known as Albert Odyssey Gaiden ~Legend of Eldean~ (アルバートオデッセイ外伝 ~レジェンド オブ エルディーン~, Arubāto Odessei Gaiden ~ Rejendo Obu Erudīn ~?) in Japan, is a role-playing video game produced by Sunsoft for the Sega Saturn. It was originally made for the Super NES, and ported to the Saturn late in its development. Released in Japan in August 1996, the game was made available in North America in July 1997 by Working Designs. It is the third and the last game in the Albert Odyssey series.
Legend of Eldean is the first Albert Odyssey title to be released in English, as well as the first to feature traditional turn-based role-playing elements as opposed to tactical, strategy-based gameplay. It was created as a "gaiden", or sidestory to the original titles, and contains back story, characters, and plot that are independent from earlier games in the series. The North American version received mixed reviews.
Gameplay
[
edit
]
Albert Odyssey: Legend of Eldean is a traditional RPG, with an overhead perspective and combat based around the selecting of character actions from menus.
The game follows the adventure of Pike, a teenage boy whose family was murdered by a horde of monsters while still an infant, and is raised by a family of winged humanoids known as Harpies. Ten years later, his adoptive sister is turned to stone by an evil mage. Together with Cirrus, a talking sword housing the spirit of one of the legendary Eldean siblings, Pike travels the world to search for a cure, and discovers a plot by a group of evil magicians to turn the world's races against each other and revive the ancient god Vlag. Together with the help of friends he meets along his journey, Pike must prevent the evil's resurrection.
Table of Contents