Jump to navigation
Jump to search
This is the first game in the Alone in the Dark series. For other games in the series see the Alone in the Dark category.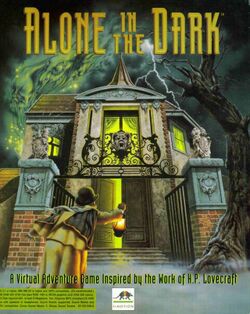 Neoseeker Related Pages
Links
This guide is for the original game. For the 2008 sequel, see Alone in the Dark (2008).
Alone in the Dark is a critically acclaimed survival horror action adventure game designed by Frédérick Raynal and developed by Infogrames and Krisalis (3DO). It was published by Infogrames in 1992. The game has spawned several sequels as part of the Alone in the Dark series (as well as a film loosely based on the series) and is considered the first 3D survival horror game.
Table of Contents