Jump to navigation
Jump to search
This is the first game in the Amped series. For other games in the series see the Amped category.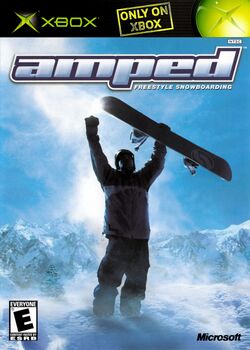 Amped: Freestyle Snowboarding is an Xbox exclusive snowboarding video game. Released during the Xbox's launch, Amped is a snowboarding game focused on the tricks, instead of the racing style of play given by Electronic Arts' SSX which launched with the PlayStation 2 in the previous year. The success of Amped was solidified by the successful launch of the sequels, Amped 2 and Amped 3.
Utilizing the Xbox's built-in hard drive, Amped allowed for entire mountains to be loaded simultaneously, permitting completely freestyle runs modeled on real resorts, rather than the linear courses of other snowboarding titles.
Table of Contents