Jump to navigation
Jump to search
This is the first game in the Atari Flashback series. For other games in the series see the Atari Flashback category.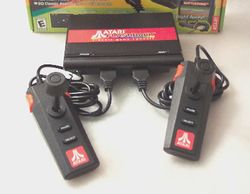 The Atari Flashback was released in 2004. The console resembled an Atari 7800 in appearance, and came with a pair of controllers which resembled those of the Atari 7800 but were slightly smaller. The system had twenty games built-in, all originally developed by Warner Communication's Atari Inc. and Atari Corp. for the 2600 and 7800 game systems. The games which originally required analog paddle controllers were made to work with the included joysticks.
It was designed by Atari veteran Curt Vendel, whose company Syzygy Co. (formerly Legacy Engineering Group) designs other home video game and video arcade products. Atari Inc. gave Syzygy Co. ten weeks to design the product, produce its games, and ready it for the 2004 Winter holiday season. The Atari Flashback was based on "NES-on-a-chip" hardware, not resembling either of the Atari systems which the Flashback was supposed to represent (this was solved with Flashback 2). As a result, the games it contained were ports and differed in varying degrees from the original games, and therefore the Flashback was unpopular with some purists.
Included games
[
edit
]
Saboteur was advertised as "unreleased"; though never part of the Atari lineup, it was sold at the Philly Classic 5 convention in 2004.