Jump to navigation
Jump to search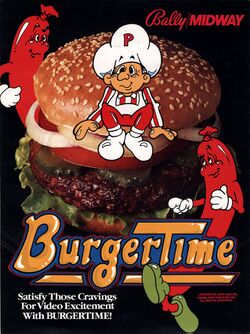 BurgerTime
Developer(s)
Data East, Sakata SAS
Publisher(s)
Data East, Midway Games
Year released
1982
System(s)
Arcade, Atari 2600, Commodore 64/128, Apple II, MSX, NES, Family Computer Disk System, ColecoVision, Intellivision, DOS, Sharp X1, TI-99/4A, Mobile, Wii
Series
Oretachi Game Center Zoku,
Arcade Archives

BurgerTime was among the more successful classic arcade games of 1982. Its premise was cute and clever, two winning components for arcade games during that time. You control a hamburger chef named Peter Pepper who has been transported to a world of larger-than-life burgers. Peter Pepper's goal is to assemble every layer of a hamburger by walking over the ingredients until they drop to the level below. But there are bits of food who are out to stop the chef and prevent him from serving his meals ever again. In order to defend himself, Peter Pepper can throw a dash of pepper in his enemies' faces to freeze them in place while he continues on.
BurgerTime's appeal never made it out of the arcade and in to pop culture like other contemporary arcade games, but it was considerably popular enough to get licensed for several home conversions. Mattel Electronics was the biggest licensee, swooping on the title in order to bring it to their Intellivision system, which was often criticized for not having enough arcade titles. In addition, they ported it to some other systems, including their own competition, the Atari 2600. They were even about to publish a version for the ColecoVision, but they went bankrupt, so Coleco bought and published the title themselves. Meanwhile, Data East and Namco formed a partnership that allowed Namco to publish the game for the Famicom (ported by Sakata SAS) in Japan, while Data East published it for the NES in America. It inspired a Game Boy conversion, BurgerTime Deluxe. In 2005, developer Hamster released the game for the PlayStation 2 as part of their classic game series.
Chef Peter Pepper has been transported to a world of living food. Hot dogs, fried eggs, and pickles are out to stop the chef from serving up his culinary delights. But Peter Pepper is determined to stomp out complete and perfect hamburgers for others to enjoy, and he won't let his diminutive size deter him. Armed with nothing more than pepper shakers, he braces himself for a showdown with the enemy food.
Gameplay
[
edit
]
Peter Pepper must walk on every layer of hamburger in order to push them down to the floor below, until all of the hamburgers are completely assembled.
Once all of the hamburgers are assembled, you advance to the next round. There are six different stages that loop continuously.
Peter Pepper is chased by certain types of food, such as Hot Dogs, Fried Eggs, and Pickles. Contact with any of them is lethal.
Peter Pepper's one and only weapon against the attacking food is pepper. By pressing the pepper button, Peter throws out a blast of pepper.
The enemy must be nearby in order to get struck by the pepper. If it is, it will be frozen in place for a small amount of time. Peter can safely pass through it during that time.
After enough layers of burger have been dropped, pepper refills show up in the center of the stage, in the form of coffee, ice cream, or French fries.
Table of Contents