Jump to navigation
Jump to search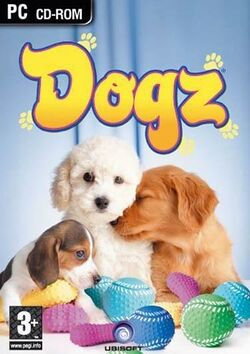 This guide is for the PC version. For the PS2 and Wii version, see Petz: Dogz 2 and Catz 2. For DS or GBA versions, see Dogz (DS) or Catz (GBA).
Dogz and Catz are virtual pet games for the PC and Nintendo DS. In the UK there are PS2 and Wii versions with the same names, but these releases are actually Petz: Dogz 2 and Catz 2 (as released in the US). These games are in the Dogz and Catz series. The goal of Dogz and Catz is to care a dog or cat, where the game play mimics real pet care.
There are five breeds of dog or cat you can adopt and care for. You can choose from three fur colours for each one, and buy additional ones from the store. The breeds of pet have different personalities, some are easier to train than others and some get dirty very quickly.
You can train your dogs and cats to obey commands, such as 'sit', and 'lie down', and other basic (and not so basic) commands which you would teach a normal dog, or possibly teach a cat. By teaching your pet enough tricks, you can enter talent shows to win money.
From the store you can buy your pets accessories, such as toys, equipment (brushes, beds, etc.), treats and clothing.
Box Art
[
edit
]
Table of Contents