Jump to navigation
Jump to search
This is the first game in the Edd the Duck series. For other games in the series see the Edd the Duck category.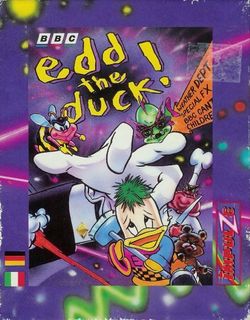 Designer(s)
Brian Beuken, David Taylor, Tink (ZX/CPC),
Ian Copeland (C64/Amiga)
Genre(s)
Platform
Players
1
Modes
Single player
Edd the Duck is a Rainbow Islands-style platform game that was released by Impulze on the Sinclair ZX Spectrum, Amstrad CPC, Commodore 64 and Commodore Amiga in 1990; it is based on the BBC television puppet of that same name, who first appeared on The Broom Cupboard with Andy Crane in 1989. The seventh round of the ZX and CPC versions is infamous, because it only has nineteen stars instead of twenty (therefore rendering it impossible to clear) - however, when Ian Copeland converted it for the C64 and Amiga, he corrected this problem (and even added a cheat mode for the latter one).
This is from the back of the cassette's (or disk's, for the case of the Commodore Amiga version) inlay card, the front of which is shown in the image to the right (Edd is holding a broom to fend off a hand):
Edd the Duck, superstar, pop
singer, and all round cool dude,
starts his new series on BBC1 this
week. The series, split into nine
episodes, chronicles his exciting
escapades around the various
departments of the BBC Television
Centre.
Could this be the program to
launch Edd's superstardom onto a
new plane? Watch out on a small
screen near you.....
© BBC Enterprises Limited 1990
Table of Contents