Jump to navigation
Jump to search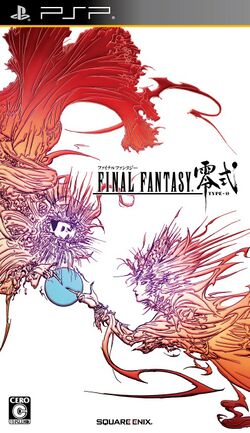 Neoseeker Related Pages
Links
Independent wikis with more information:
Final Fantasy Type-0 (ファイナルファンタジー 零式, Fainaru Fantajī Reishiki?) is a game published by Square Enix for the PlayStation Portable and was released in Japan on October 27, 2011. The game was originally announced with the name Final Fantasy Agito XIII (ファイナルファンタジー アギトXIII, Fainaru Fantajī Agito Sātīn?); "Agito" roughly meaning "to put in motion" in Latin. Director Hajime Tabata said he liked the Agito title, but the name didn't have much to do with the game Final Fantasy XIII. With the name change, they want to develop Type-0 into a series. Even though the game no longer has "XIII" in its title, the game still uses the Fabula Nova Crystallis mythology. While a release outside of Japan has not been announced, Tabata is trying to appeal to North American players in his direction of the game.
The game is set within a place called Oriens, which is divided into four nations: the Suzaku Fiefdom of Rubrum, the Milites Empire, the Lorican Alliance, and the Kingdom of Concordia. Each nation has its own emblem (a phoenix, two tigers, a dragon, and a turtle, based on the Four Symbols) and is blessed with a crystal that grants them unique powers: Rubrum controls the Suzaku Crystal containing the power of Magic, Milites controls the Byakko Crystal containing the power of Weapons, Lorica controls the Genbu Crystal containing the power of the Shield, and Concordia controls the Sōryū Crystal containing the power of Dragons. The Crystals have the ability to mark humans as their countries' servants. These servants, called l'Cie, are branded with a symbol and are given a "Focus"—a task to complete. However, while blessed with long life, l'Cie are cursed to lose their memories over time. There are also summons called War Gods, only five are seen to be playable: Shiva, Ifrit, Golem, Bahamut, and Diablos.
Table of Contents