Jump to navigation
Jump to search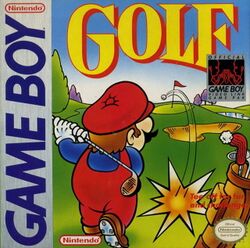 Golf is a golf game for the Game Boy, developed and published by Nintendo. It was first released in Japan in 1989, followed by an international release in 1990. It was later released for the 3DS Virtual Console in 2011.
Gameplay
[
edit
]
The Game Boy version has smaller characters compared to the 1984 NES version, and they are displayed on the course. There are a total of 36 holes, including the JAPAN course and the USA course for advanced players.
Like many early Game Boy games, Golf offers a head to head competitive mode through the use of two Game Boys, two Golf cartridges, and the Link Cable. This mode was removed entirely in the 3DS Virtual Console release. The controls are simple: change which way your golfer aims with left and right, choose which club to swing with using up and down. How hard you hit is determined by the position of a slider when you press the buttons.
Table of Contents