Jump to navigation
Jump to search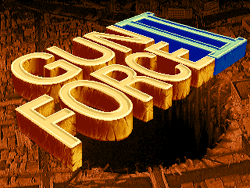 GunForce II (GeoStorm in Japan) is a shooter game for the arcade that was developed and published by Irem in 1994. It is the sequel to 1991's GunForce: Battle Fire Engulfed Terror Island.
GunForce II's development team later worked on SNK's Metal Slug, which contains similar gameplay, graphics, and sounds.
Some of the music for GunForce II was Air Duel.
The game throws you into the role of a mercenary who's only goal is to rescue women from an onslaught of invading aliens. Your goal is to defeat five primary targets to sabotage all alien efforts.
Table of Contents