Jump to navigation
Jump to search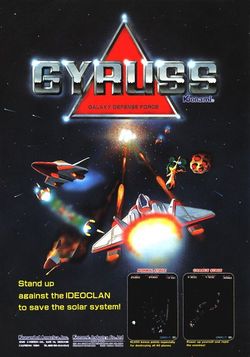 Gyruss (ジャイラス, Jairasu?) is a shoot 'em up video arcade game developed by Konami, and released in 1983. Gyruss was licensed to Centuri in the United States, and was ported to numerous games consoles and home computers. Gyruss was the second and last game Yoshiki Okamoto designed for Konami, after Time Pilot. Due to pay disputes, he was fired after the release of this game, and soon joined Capcom, where he would write 1942 and the first Street Fighter game.
The gameplay is very similar to that of Galaga but with an added twist: the game is presented in a forced 3D perspective, with the player's ship facing "into" the screen and able to move around the perimeter of an implicit circle - essentially, Gyruss was Galaga mapped onto a Tempest-like cylinder. This gameplay style is called a "tube shooter," and Gyruss is one of the very few examples that exist. The familiar scrolling starfield of earlier space shooter games was arranged to fit the 3D perspective, with the stars coming into view at the centre of the screen and flying outward, giving the impression of the player's ship moving very fast through space.
The game's background music is an electronic, fast-paced arrangement of J. S. Bach's Toccata and Fugue in D minor, BWV 565; this particular arrangement is superficially similar in sound to "Toccata," a rock arrangement by the UK-based instrumentalist group Sky. Gyruss is notable for using "stereo" sound, which according to the bonus material for Konami Arcade Classics, was achieved by utilizing discrete audio circuits.
Table of Contents