Jump to navigation
Jump to search
This is the first game in the Heimdall series. For other games in the series see the Heimdall category.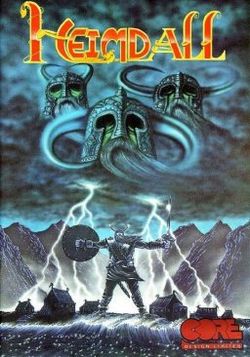 Heimdall is based on the Norse mythology. Loki steals Odin's sword, Freyr's spear and Thor's hammer, depriving them of their powers. As a solution, they decide to create a messiah, Heimdall, born in a Viking village, tasked to travel to three worlds of the Norse cosmology (Midgard, Utgard and Asgard) and recover these objects.
At the beginning of the game, young Heimdall undergoes three trials which are the only arcade portion of the game: axe-tossing towards a maid's braids, boar hunting with his bare hands, and fighting on a ship. Performance and completion on them, grants the player more characters out of whom he will select five for his party. These belong to the classes of Warrior, Wizard, Shipwright, Navigator, Druid, Blacksmith and Beserker [sic].
In the main game, Heimdall and his crew travel around an archipelago of islands. Each island is an environment of isometric perspective with traps, mechanisms, items and characters. Only three characters can walk, while the rest remain on the ship.
The game has been much criticised for the limited inventory as each character can carry up to six items.
Table of Contents