Jump to navigation
Jump to search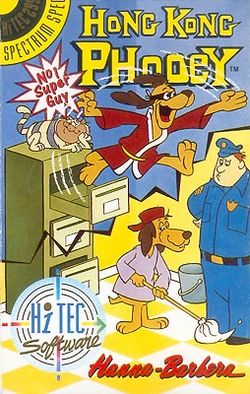 Designer(s)
Dave Thompson, Richard Morton (ZX/CPC),
Steve, Shaun (C64),
Mark Mason (Amiga)
Genre(s)
Platform
Players
1
Modes
Single player
Hong Kong Phooey (full title: Hong Kong Phooey: No. 1 Super Guy), is a platform game that was developed by PAL Developments, Enigma Variations and Twilight for Hi-Tec Software, and released on the systems of the Sinclair ZX Spectrum, Amstrad CPC, Commodore 64 and Commodore Amiga in 1990; it is based on the Hanna-Barbera television series of the same name, which originally aired in 1974 (and was one of their shortest-lived TV cartoons, given that it only ran for thirteen episodes).
This is from the back of the cassette's (or disk's, in the case of the Commodore Amiga version) inlay card, the front of which is shown in the image to the right (Phooey is also seen as Penry the Janitor):
Baron Von Bankjob has escaped from jail!
Who comes to the rescue? It's Hong Kong Phooey, emerging from the sticky
top drawer of his special file cabinet, with the help of trusty police
station cat, Spot. The latest living legend of our time emerges, mask and
kimono askew, the indispensable Kung Fu manual tucked firmly inside his
pocket.

Otherwise known as the bumbling janitor of Police Headquarters, Penrod
Pooch, our hero leaps into the fray. He remains supremely confident of his
dazzling footwork, lightning quick reflexes, and keen powers of perception,
despite continual trips, flip-flops and bungles. In Phooey's mind, the
power imbued through his Kung Fu manual cannot but triumph. In reality,
victory over the many colourful villains must be attributed to the
backstage manoeuvres of shrewd little Spot.
© Hanna-Barbera Productions Inc. 1990

Table of Contents