Jump to navigation
Jump to search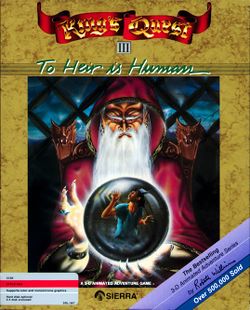 Neoseeker Related Pages
Links
King's Quest III: To Heir is Human is the third installment in the King's Quest series of computer games produced by Sierra On-Line. It was the first game in the series not to feature King Graham as the player character.
The game was released for the Apple II and PC in 1986. The latter was the first Sierra game to be DOS-based instead of using a self-booting disk. A year later, it was rereleased with the slightly improved AGI V3 engine.
In 2004, in the tradition of recent remakes, an independent group of game developers, Infamous Adventures, proceeded with a VGA style remake of King's Quest III. The game is in the style of later King's Quest releases, such as King's Quest V and VI. They released King's Quest III on June 19, 2006.
AGD Interactive announced King's Quest III Redux on January 22, 2011 for release on February 23, 2011.
In King's Quest III, the story moves away from Daventry and King Graham to the land of Llewdor, where a boy named Gwydion is being kept by the wicked wizard, Manannan. According to the introduction, for as long as he could remember, 17 year old Gwydion has been held captive by Manannan as his servant, cooking and cleaning for him in his home atop a large mountain in Llewdor. From this vantage point, and with the help of a telescope, the seemingly all-knowing wizard watches the countryside, with the shore to the east and the desert to the west.
It is revealed that Gwydion was kidnapped from Daventry by the magician when he was young, and this adventure tells the story of his journey back to Daventry.
The player plays Gwydion in King's Quest III. The major events of the story include breaking free of Gwydion's captivity by turning Manannan into a cat, escaping Llewdor, returning to Daventry where he frees both the land and Princess Rosella from a three-headed dragon, and finally discovering that he is actually the royal couple's lost son, Rosella's twin and heir to the throne, Alexander.
The actions taken by Gwydion in this story lead directly to the events that begin King's Quest V.
Table of Contents
King's Quest III: To Heir is Human/Table of Contents