Jump to navigation
Jump to search
This is the first game in the NBA Jam series. For other games in the series see the NBA Jam category.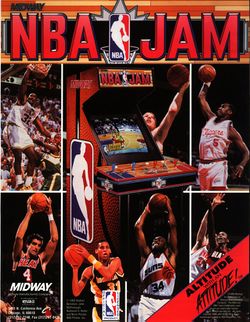 NBA Jam is a basketball arcade game developed by Midway in 1993. It is the first entry in the NBA Jam series, and was written entirely in assembly language. The main designer and programmer for this game was Mark Turmell. The release of NBA Jam gave rise to a new genre of sports games which were based around action-packed gameplay. The arcade version features team rosters from the 1992-93 NBA season and the console versions use rosters from the 1993-94 NBA season. More up-to-date ports were released for the Sega CD, Game Boy, and Game Gear later in 1994.
Midway did not secure the license to use Michael Jordan's name or likeness, and as such he was not available as a player for the Chicago Bulls or any other team. Other notable absences from the home versions are Gary Payton and Shaquille O'Neal, the latter conspicuous considering his appearance on the arcade version as a member of the Orlando Magic. New Jersey Nets guard Drazen Petrovic and Boston Celtics forward Reggie Lewis, both of whom died after the release of the arcade version, were also removed from the home version.
Gameplay
[
edit
]
NBA Jam, which features 2-on-2 basketball, was one of the first real playable basketball arcade games, and was also one of the first sports games to feature NBA-licensed teams and players, and their real digitized likenesses.
A key feature of NBA Jam is the exaggerated nature of the play—players jump many times above their own height, making slam dunks that defy both human capabilities and the laws of physics. There are no fouls, free throws, or violations except goaltending and 24 second violations. This means the player is able to freely shove or elbow his opponent out of the way. Additionally, the game has an "on fire" feature, where if one player makes three baskets in a row, he becomes "on fire" and has unlimited turbo, no goaltending, and increased shooting ability, until the other team scores (or the player scores four consecutive baskets while "on fire").
The game is filled with easter eggs, special features and players activated by initials or button/joystick combinations. For example, pressing

five times and

five times on any Sega Genesis controller activates "Super Clean Floors". "Super Clean Floors" causes characters to fall if they run too fast or change direction too quickly. And players can enter special codes to unlock hidden players, ranging from former US President Bill Clinton to Hugo the Charlotte Hornets mascot.
NBA Jam Tournament Edition
[
edit
]
An update named NBA Jam Tournament Edition (commonly referred to as NBA Jam T.E.) features updated rosters, new features and easter eggs combined with the same gameplay of the original. Teams now consist of three to five players and players can be substituted into the game. The game also features new hidden teams and hidden playable characters. Early versions of the game included characters from Midway's Mortal Kombat games. Players are also assigned more attributes, including clutch and fatigue levels. In addition, the game also introduced features such as a "Tournament" mode that turned off computer assistance and on-court hot spots that allowed for additional points or special slam dunks.
This version was also ported to the SNES, Genesis/Mega Drive, Sega 32X, Game Boy, Game Gear, Sega Saturn, PlayStation and Atari Jaguar.
Table of Contents