Jump to navigation
Jump to search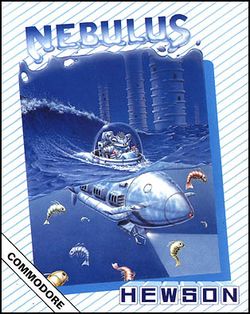 Nebulus
Developer(s)
Triffix
Publisher(s)
Hewson, U.S. Gold
Year released
1987
System(s)
Commodore Amiga, Atari ST, Sinclair ZX Spectrum, Amstrad CPC, Commodore 64/128, Game Boy, NES, Atari 7800, Acorn Archimedes, Wii
Nebulus, also known as Castelian, Kyorochan Land and Tower Toppler, is a computer game published by Hewson in the late 1980s for the ZX Spectrum, Amstrad CPC, Commodore 64, Commodore Amiga, Atari ST and Acorn Archimedes platforms. A version for the Nintendo Game Boy, Nintendo Entertainment System and Atari 7800 was also released. The US version, which was published by U.S. Gold, was released under the title Tower Toppler. The Nintendo versions were released as Castelian (Kyoro-Chan Land in Japan), in which the character is called Julius. There is also an unfinished version for Atari XE/XL computers. In 2004 it was re-released on the C64 Direct-to-TV, and on June 20, 2008, the same version made its comeback on the Wii's Virtual Console download service in Europe on June 13, 2008 and later in North America on May 4, 2009.
You're witnessing a typical sparkling, summer morning in downtown Jemmerville. Both suns have risen over the planet Centrus, where summer, of course, is the only season. And it is here, on the island's precious gem-deposits are talked about throughout the Triangulum galaxy, and they're the envy of almost every life-form in this corner of the universe.
Julius is asleep in his terraineum when the holographic intercom sprays out its message. It is the president of Domoloco and Sons inc.: "Julius we have a serious situation. The governor has reported that 7 alien towers have surrounded the island. If one more appears, the island will be completely enclosed. The naviports are almost cut off. The hyperfreighters are trapped…nothing is getting in or out."
"I've given the governor my personal promise that Domoloco and Sons would handle these towers... No one knows what they are or where they came from but I want them demolished! Now that's not too difficult a mission, is it?" Julius slowly opened his eyes and found that the president's personal hologram – not the one of his secretary – was still activated: "Wake up, Julius, and topple that tower!"
As Julius starts to say something, the hologram begins to dissolve as quickly as it appeared.
Table of Contents