Jump to navigation
Jump to search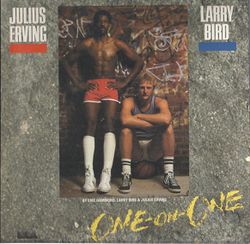 Neoseeker Related Pages
Links
One-on-One is a basketball game released for the Apple II in 1983. It was developed by Eric Hammond and published by Electronic Arts. The game was later ported to the Amiga, Atari 8-bit family, Atari 7800, ColecoVision, Commodore 64, TRS-80 CoCo, and PC Booter that enabled the game to be played on IBM PC DOS, Macintosh, and MS-DOS. The Atari 7800 version was released in 1987.
The game has several names:
One-on-One as displayed on various box artwork.
One-On-One: an incorrectly capitalized version, easily misconstrued due to the box artwork being in all capitals.
One on One is its most common title, and is displayed that way in game.
One-on-One Basketball is the Atari 7800.
Julius Erving vs. Larry Bird One-on-one: an alternate title.
Julius Erving and Larry Bird Go One on One: TRS80-CoCo in-game title; also in various ColecoVision and Commodore 64 text and labeling.
Dr. J and Larry Bird Go One on One: an unconfirmed title; from Wikipedia. Possibly a simplification of the above title, but may have appeared with a port of the game.
Table of Contents
External links
[
edit
]