Jump to navigation
Jump to search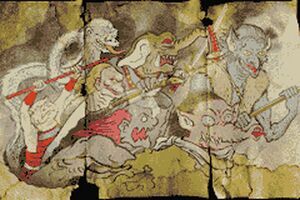 The majority of enemies encountered in Onimusha Tactics are demons known as Genma. These foul creatures serve Nobunaga without question.
The Genma culture posses an amazing level of science that is beyond the setting of the Onimusha world (feudal Japan).
The few humans Onimaru and his allies will have to fight fall into 3 categories: Future allies, those who are sworn to Nobunaga, and those who have been deceived or bribed into helping Nobunaga without fully understanding the ramifications of their actions.