Jump to navigation
Jump to search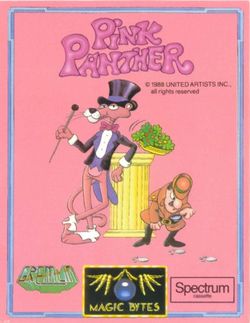 Pink Panther is: an action game which was developed by Magic Bytes and Micro-Partner for Gremlin Graphics and ReLINE Software, released upon the Sinclair ZX Spectrum, Amstrad CPC, Commodore 64, MSX, and Commodore Amiga in 1988; it is based on the Metro-Goldwyn-Mayer films (and Mirisch Films cartoons!) of the same name, which were produced from 1963 (1964, for the cartoons) to 1978. All five versions of the game are infamous - because if you make the Pink Panther go to the island on the right side of the start screen, it will make the game lock up, and you will have to reset the console, which means that you have to make him go to either that "Jobs" billboard or the supermarket instead.
This is from the back of the cassette's (or disk's, in the case of the Commodore Amiga version) inlay card, the front of which is shown in that image to the right (the Panther wears a top hat and tuxedo):
PINK PANTHER
IS ON THE RUN!
(You are right, I am back indeed!)
Guide Pink Panther (You guessed it,
that's me!) through his charming, nightly
raids (Well, let's say "visits"...) into the
manor-houses of the rich
(Unfortunately for me, they
are all sleepwalkers!). Take
care! Inspector Clouseau
(Oh, him...) doesn't sleep!
© United Artists Inc. 1988
Even though Inspector Clouseau was the hero of his own series of Mirisch Films cartoons (from 1965 to 1969) he is depicted as the antagonist of this game; oddly enough, his Spanish assistant Sergeant Deux-Deux does not appear with him (and neither do The Ant and the Aardvark or Crazylegs Crane).
Table of Contents