Jump to navigation
Jump to search
This is the first game in the Rayman series. For other games in the series see the Rayman category.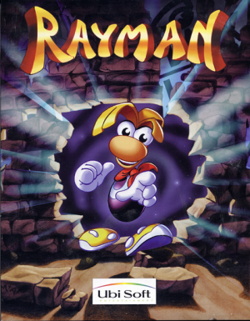 Rayman is a 1995 side-scrolling platform game developed by Ludimedia (now Ubisoft Montpellier) and published by Ubi Soft. The first installment in the Rayman series, the game follows the adventures of Rayman, a hero who must save his colorful world from the evil Mr Dark.
Originally designed for the Atari Jaguar in 1995, a PlayStation version was developed and released around the same time, and further ports were created for MS-DOS and Sega Saturn in 1996. It has appeared in various other formats, such as Game Boy Advance, PlayStation Network and DSiWare.
The cosmic balance and harmony of Rayman's world are maintained by a mystical object known as the Great Protoon. One day, the mysterious Mr Dark steals the Great Protoon, defeating Betilla the Fairy as she attempts to protect it. As a result, the Electoons – benevolent creatures which gravitated around the Great Protoon – are scattered across the world. In this now-unbalanced world, hostile creatures appear and imprison the Electoons in cages. The Magician, a benevolent wizard, calls upon the hero Rayman to free the Electoons, defeat Mr Dark and recover the Great Protoon.
Table of Contents