Jump to navigation
Jump to search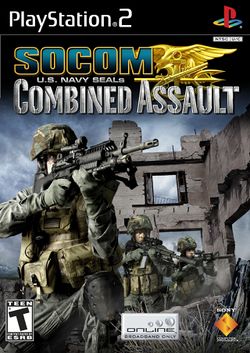 SOCOM U.S. Navy SEALs: Combined Assault is a video game for the PlayStation 2 that was released on November 7, 2006 in North America. Combined Assault features an entirely new campaign, new vehicles, weapons, multiplayer maps and much more.
Combined Assault's campaign mode is completely new and offers 18 missions. Rather than spanning multiple countries like past games in the series, the game takes place solely in the fictional country of Adjikistan. The country is supposedly situated somewhere in the Afghanistan/Pakistan region of Central Asia and features a number of environment and climate zones, allowing for the game to feature a wide variety of landscapes and settings while working within one large, connected story.
After a few years since the Soviet Union's collapse, the former Adjikistani Socialist republic has finally gained independence. The charismatic Ismail Karim is appointed Adjikistan's first president. He promises an economy more competitive than that of other "hot" Asian nations such as China or Cambodia. This makes Adjikistan a key American interest. However, not all is going smoothly. A large rebel movement threatens to destabilize the government, and after a CIA asset is kidnapped by the rebels, a SEAL team is sent in to rescue him; however, the helicopter is shot down after the spy has been saved. Your character's fireteam is sent in to rescue the survivors, and your team becomes more and more embroiled in the conflict. However, the rebels claim that they are not trying to topple a benevolent government; rather they are protecting themselves from a genocidal campaign waged by Adjikistani authorities. The SEALS later discover a system of concentration camps in a major Adjikistani city and shut it down. Eventually, Karim is cornered in his Presidential Palace and is arrested and tried for crimes against humanity.
Table of Contents
Operation Fallen Hawk
Operation Stormsurge
Operation Polaris