Jump to navigation
Jump to search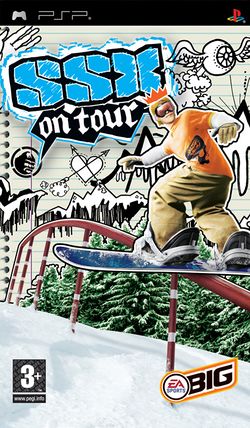 Neoseeker Related Pages
Links
This guide is for the console version. For the PSP version, see SSX on Tour (PlayStation Portable).
SSX on Tour is a snowboarding video game, the fourth title in the SSX series of video games for the GameCube, PlayStation 2, and Xbox. The game was developed under the working title SSX 4. It was released in North America on October 11, 2005 and was released in the PAL region on October 21, 2005. Unlike its predecessor SSX 3, On Tour isn't currently backwards-compatible with the Xbox 360.
Gameplay
[
edit
]
The GameCube version contains Mario, Luigi, and Princess Peach as playable characters. This was part of a deal Nintendo had with EA Sports to have Nintendo's intellectual properties appear in EA franchises.
The gameplay in SSX on Tour is similar to that in SSX 3, with similar controls and the overall aims of events remaining the same - snowboard down a mountain whilst gaining points for various tricks that can be performed. After each trick, a player's "boost bar" builds up, and once full enables a player to perform special moves - known as "Monster Tricks" now, previously known as "Über tricks".
Despite the similarities, numerous changes were made to the structure of races and events themselves. Players can now create their own characters, selecting his/her symbol, makeup, height, clothes and hair, in addition to whether they are a snowboarder or a skier (skiing being a new feature in the game). Once created, their 'boarder can compete in official competitions (known as "Events"), or unofficial challenges known as "Shreds". Each completed event or challenge gains their character "Hype", raising their profile and moving them up the SSX charts, with the ultimate goal of reaching number one.
With the focus now on custom-created characters, the original SSX cast is moved into the background slightly, appearing in various Shreds against the player, and available to play as when not on the Tour itself. In addition to seven returning SSX veterans, three new characters make an appearance: Tyson, Sid, and Skye.
Unlike its predecessor, SSX 3, no online play was included on any of the versions of SSX On Tour. The main focus was on improving the single-player storyline mode, implementing the character-creation system, the selection of new tracks, and the addition of skiing as well as snowboarding.
Table of Contents