Jump to navigation
Jump to search
This is the first game in the Shadowrun series. For other games in the series see the Shadowrun category.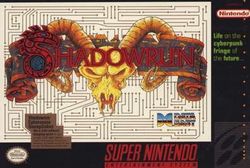 You are Jake Armitage, a shadowrunner. You were unceremoniously executed in the streets, but somehow you woke up in the morgue (albeit with a massive migraine). Somebody wants you dead, and you have to find out who, and why.
The name "Armitage" is a reference to William Gibson's Neuromancer, the first cyberpunk novel. The Genesis Shadowrun also references it through a character named "Nero Manser".
Table of Contents