Jump to navigation
Jump to search
This is the first game in the Spelunker series. For other games in the series see the Spelunker category.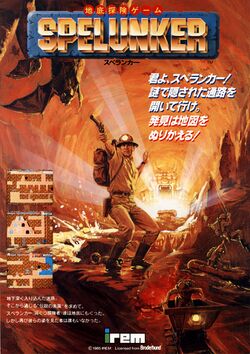 Spelunker is one of the most maligned video games in history, right along with the Atari 2600 game E.T. The Extra-Terrestrial. But the fact is, Tim Martin's Spelunker did not start out deserving such a bad rap. It actually began life as a rather groundbreaking achievement. When it was originally released for the Atari 8-bit computer systems, the game's map was considerably large compared to other contemporary action games. It was one of the few distinguished games that ever went from a computer game to an arcade game instead of the far more common opposite. However, the version that stands out most in everyone's minds, possibly for the exposure it received on a system that heralded the comeback of video games in North America, was the horribly converted NES game.
As an NES title, Spelunker sported some of the most unfair and unmerciful controls ever seen in video game history. While the original versions, including the arcade game, never suffered from this fact, the NES version punished everything but the most deliberate of inputs. The fact that the player would die if they fell just a few pixels in height, coupled with the excruciating difficulty of jumping off of a rope or ladder, resulted in a catastrophe of unplayability. With no room for error, players lost a vast number of lives simply trying to get through the first level, let alone the entire game. No continues and no level selects meant that the player must start over at the same level every single time. To this day, numerous English and Japanese websites pay homage to the unrelenting poorness of the NES version's controls.
Nevertheless, if the poorness of the controls for one conversion of the game could be overlooked, a rather enjoyable exploration game could be found. And that, perhaps, is one of the biggest reasons why the controls are lamented to such extent, because there is quite a fun game buried underneath. After Micro Graphic Image published the original Atari version, Brøderbund Software bought the rights to the game and took over distribution of the original version, as well as developing an identical version for the Commodore 64/128. In 1985, Irem thought they would make a great arcade game, so they bought the rights to convert it and distribute it in Japan. They are ultimately the ones responsible for the failed NES port as well as an MSX conversion (which contains many of the same faults). Irem later concocted a sequel to the arcade game, which played a lot like the first, but in new locations. A sequel was also developed for the Famicom, which had a selection of players to choose from, and differed from the original quite drastically.
Table of Contents