Jump to navigation
Jump to search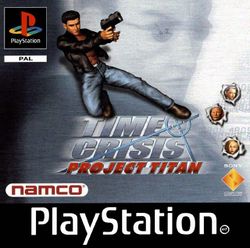 | | |
| --- | --- |
| Japanese title | タイムクライシス・プロジェクトタイタン |
| Release date(s) | |
| Genre(s) | First-person shooter |
| Players | 1 |
| Modes | Single player |
| Rating(s) | |
Time Crisis: Project Titan is a first-person shooter game that had been developed by Flying Tiger Development for Namco and released on the Sony PlayStation in 2001; as the name suggests, it is the third title in Namco's Time Crisis series, and serves as a direct sequel to the PlayStation port of the original Time Crisis. In the game, Richard Miller (the protagonist of the original game) has been framed in the assassination of the President of Caruba, and a fiendish plot has surfaced - however, he only has two days to find the President's real killer, clear his name and uncover the sinister plan.
This is from the back of the European disc's box, the front of which is shown in the image to the right:
THE BODYCOUNT IS RISING...
BUT WILL YOU BE BLOWN AWAY?
You stand accused of a crime you did not commit and have only
forty-eight hours to clear your name. There's a price on your
head and the clock is ticking...can you handle the pressure of
another Time Crisis?
Frantic duck'n'shoot action is as intense as ever!
Innovative multi-hiding system adds a new dimension to gameplay!
Improved enemy AI and logic patterns pose a brand new challenge!
Blast your way through level after level of high powered arcade action!
© NAMCO 2001
Table of Contents
Time Crisis: Project Titan/Table of Contents