Jump to navigation
Jump to search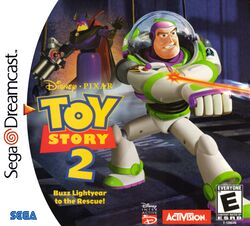 Neoseeker Related Pages
Links
For Game Boy Color game, see Toy Story 2.
Toy Story 2: Buzz Lightyear to the Rescue! is a platform game based on Pixar's computer animated movie Toy Story 2. It was released for the Nintendo 64, PlayStation, Dreamcast, and Windows in 1999 and 2000. A different version of the game, titled Toy Story 2 with no subtitle, was released for the Game Boy Color.
Players control Buzz Lightyear as he tries to rescue Woody after he is kidnapped by Big Al. His moves consist of his wrist laser, which can be charged, a spin attack move and a double jump. There are several accessories that can be unlocked to help Buzz complete some tasks.
Table of Contents