Jump to navigation
Jump to search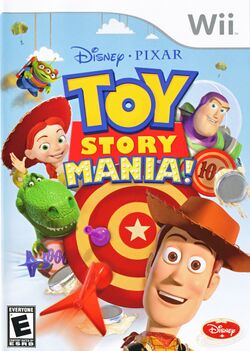 Toy Story Mania! is a video game produced by Disney Interactive Studios and developed by Papaya Studio. The game is based on the Toy Story Midway Mania! attraction located at Disney's California Adventure and Disney's Hollywood Studios, which was inspired by the Toy Story movie series produced by Pixar, and features single-player and multi-player shooting-gallery style gameplay. The game was released on September 15, 2009 for the Wii console. It was packaged with a Ray Gun peripheral on its European release. The game has also been rated by the ESRB as a Plug n Play device.
Included in each game are two pairs of 3D glasses. These can be used in six 3D shooting galleries.
In the Midway Mania! attraction, riders play a series of carnival games hosted by characters from the film series, such as Buzz Lightyear and Woody, by shooting various targets at each "game booth". For example, in one game, riders toss "rings" onto Little Green Men in a game hosted by Buzz Lightyear.
The video game version will have levels based on those used in the theme park attractions, as well as original levels based on other characters and scenes in the film series. The theme park attraction features two riders playing on the same screen, while the video game version will allow up to four players to play at the same time either competitively or cooperatively.
Table of Contents