Jump to navigation
Jump to search
This is the first game in the Trine series. For other games in the series see the Trine category.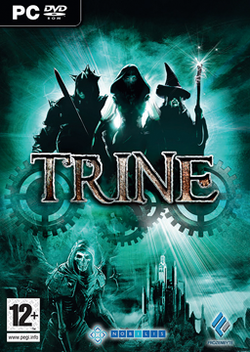 Neoseeker Related Pages
Links
Trine is a side-scrolling action, platform and puzzle video game available for Windows, Linux, Mac OS X and PlayStation Network. It was developed by the Finnish company Frozenbyte. The game was released on PC on July 3, 2009. The PlayStation Network version was to be released in July 2009, but last-minute bugs discovered in testing caused a delay. It was released on September 17, 2009 in Europe and on October 22, 2009 in North America. A version for Xbox Live Arcade was being developed by Atlus, but "most likely won't happen." according to Frozenbyte. On November 2, 2010 the game was released for Mac OS X, and the game was later ported to Linux by Alternative Games, with the finished port being released as part of the third Humble Indie Bundle. An enhanced remake of the game entitled Trine: Enchanted Edition was released for PlayStation 4, Wii U, Nintendo Switch, and Windows, using the updated engine from Trine 2.
Trine takes place in a forsaken and ruined kingdom. After enjoying a period of great peace, the king died without leaving an heir, plunging the kingdom into political instability. Taking advantage of the chaos, an undead army suddenly appeared and attacked, forcing the inhabitants to abandon the realm.
After an unspecified amount of time, Trine begins with a thief searching for a legendary treasure in the Astral Academy, a derelict institution of magical studies. Unknown to her, a wizard remained at the academy to study the skies, while a knight arrived there to protect the academy. The three meet at the chamber of the ancient treasure and, touching the object at the same time, disappear.
Table of Contents