Jump to navigation
Jump to search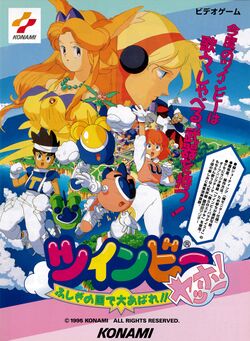 TwinBee Yahho! Fushigi no Kuni de Daiabare!! (ツインビーヤッホー! ふしぎの国で大あばれ!!, Tsuinbī Yahhō!?, "TwinBee Yoo-hoo! Uproar in Wonderland!!") is a 1995 vertical scrolling shooter released for the arcades by Konami. The game is included in the compilations TwinBee Deluxe Pack for the PlayStation and Sega Saturn and TwinBee Portable for the PlayStation Portable. The game is ninth installment in the Twinbee game franchise, and the third and final arcade installment of the TwinBee series, following the original TwinBee and Detana!! TwinBee. The arcade game includes a vocal theme song, among other vocals, with WinBee and her pilot Pastel greeting the arcade player each time it is booted, and various snatches of dialogue from most of the characters. In this installment, the TwinBee duo challenges the likes of a nefarious prince known as Prince Nonsense as well as their nemesis Dr. Warumon and his league of Evil-bee robo-ships.
Prince Nonsense was responsible for initiating a coup d'état against Queen Melody, a peaceful ruler of the Wonder Kingdom, that had her imprisoned and all of the kingdom's fleet pilots (Moth, CarKey, Wanda and Ace) guarding the prince. A fairy named Flute who aided the queen left the kingdom in search for help and happened to fly quite literally into the hands of the Twinbee duo.
Alongside many returning game play aspects, there were a few additions that added to the charm of Twinbee Yahho, particularly brief and witty dialogue scenes during boss and miniboss battles. For instance, when the kingdom's ace pilot (literally named Ace) is introduced, a miniature screen appeared at the top center of the screen that showed Ace's face inside the cockpit as he spoke to the players. The same would occur for the players as well, though their faces would appear in the player's appropriate positions.
Table of Contents