Jump to navigation
Jump to search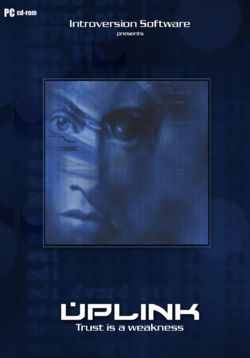 Uplink is a video game released in 2001 by the British software company Introversion Software. On August 23 2006, it was made available for purchase on Valve's Steam service and on March 24 2011 it was made available for purchase from the Ubuntu Software Center. On August 15, 2012, it was made available on Android platforms via the Humble Android Bundle 3.
It is best described as a simulator of the cinematic depiction of computer hacking.
In the game, the player assumes the role of a hacker in the year 2010, who begins work for the Uplink Corporation, which is a worldwide company providing work for hackers. The player amasses money, software, Gateway hardware and skill in the course of performing jobs for various clients, and hacking servers of global corporations for profit. The storyline of the game begins with the player receiving an e-mail from a deceased top ranking Uplink agent concerning the research done by the Andromeda Research Corporation, related to the Andromeda organization which proclaims the destruction of the Internet. It is constructing a computer virus known as Revelation using artificial life research as a base in an attempt to destroy the world wide net. One of the companies, Arunmor, attempts to cross their plans by developing Faith, a counter virus that can purge Revelation. The player can choose between two companies or even ignore the plot in its entirety, concentrating on freelance hacking, in which case the storyline plays out without the player's participation.
Table of Contents