Jump to navigation
Jump to search
This is the first game in the Viva Piñata series. For other games in the series see the Viva Piñata category.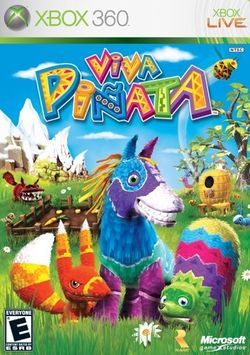 Viva Piñata is a life simulation game developed by Rare Ltd., for the Xbox 360. The project was headed by Gregg Mayles and the team behind the Banjo-Kazooie series, based on an idea from Tim Stamper. Although rumors of the title circulated among fans for some time, Viva Piñata was officially announced on March 15, 2006, and first released in November, 2006. With a "general audiences" or "everyone" rating, the game provides bright, colorful visuals, intended to appeal to children and adults alike. At E3 2007, during the Microsoft press conference, a Games For Windows version was announced and subsequently released in November 2007.
Likened to The Sims, Animal Crossing and Harvest Moon, the game tasks the player with turning a neglected plot of land into a beautiful garden. As with many sandbox games, the game is open-ended, with no strict winning or losing requirements. Instead, players are guided only generally towards the objectives of increasing their garden's value and attracting piñata residents. Players are free to determine their own sub-goals and work towards them.
Table of Contents