Jump to navigation
Jump to search
This is the first game in the Alpine Racer series. For other games in the series see the Alpine Racer category.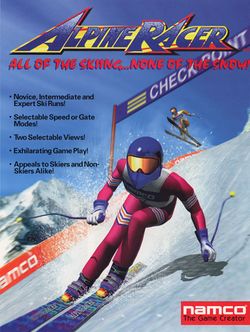 Alpine Racer is a skiing arcade game that was released by Namco in 1994; it runs on the company's System 22 hardware, and features three different courses for novice, medium, and expert players (as well as the choices for speed and gate racing). The player must use three buttons (two square yellow ones for making decisions and a third round red one to confirm them) as well as a pair of ski-like foot stands to control a magenta-suited skier who is racing against several other CPU-controlled skiers in differently-coloured suits - and it also features a penguin who can get activated by holding down both selection buttons, then repeatedly pressing the decision one, on the "PRESS ANY BUTTON" screen.
A sequel named Alpine Racer 2 was released in 1996; it allows two players to play it simultaneously when two cabinets were linked together, features three selectable skiers (none of whom are named) and was featured as one of the challenges in the BBC quizshow Friends Like These (which aired on BBC1, from 1999 to 2003). It also features two secret characters (one of whom is Kuma off Tekken) and weather conditions, which can again be activated by entering secret codes on the control panel.
Table of Contents