Jump to navigation
Jump to search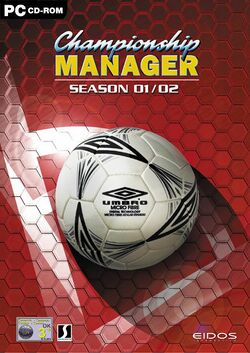 Championship Manager: Season 01/02 is a soccer management computer game in the Sports Interactive's Championship Manager series. It was released in October 2001 exclusively for PC and for Mac in November 2001. It was also later released on Xbox in April 2002.
This edition of Championship Manager includes about a hundred fully playable leagues in twenty-six countries, and the final official patch 3.9.68 added South Korea's K-League, its first appearance in the CM series.
Although never particularly expanding on the graphical side, Sports Interactive included many new features along with the usual updated database. Championship Manager 01/02 implemented the new EU regulated transfer system, introduced in September 2001, and also featured a new attribute masking mode, whereby the player can only see information about players he/she would realistically know about (also known as a fog of war).
Other new additions included the ability to send players away for surgery, player notes, player comparisons, and improved media and board interaction.
Table of Contents