Jump to navigation
Jump to search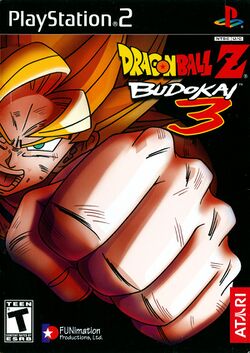 Neoseeker Related Pages
Links
Dragon Ball Z: Budokai 3, released as Dragon Ball Z 3 (ドラゴンボールZ3 Doragon Bōru Zetto Surī) in Japan, is a video game based on the popular anime series Dragon Ball Z and was developed by Dimps and published by Atari for the PlayStation 2. It was released on November 16, 2004, in North America in both a standard and Limited Edition release, the latter of which included a DVD featuring a behind the scenes looks at the game's development. In Europe, it was released on November 19, 2004.
The game released in Japan by Bandai on February 10, 2005. Like Budokai 2 before it, the Japanese version of Budokai 3 added several costumes not present in the North American and European versions. The North American Greatest Hits version of Budokai 3 adds these costumes, as well as the option to switch the audio to Japanese for the first time in North America. This version was also released in Europe as a re-release of the game under the title Dragon Ball Z: Budokai 3 - Director's Cut. From this release onwards, all Dragon Ball Z games in North America and Europe were released with dual voice language options in English and Japanese in order to please all fans.
Gameplay
[
edit
]
The game's story mode yet again plays through the events of the Dragon Ball Z timeline, and the game includes several characters and events from the Dragon Ball Z movies (like Cooler, Broly and Bardock), Dragon Ball GT (like Super Saiyan 4 and Omega Shenron), and the original Dragon Ball series itself (Kid Goku). Other features the game includes are a versus mode, an items shop, a tournament, and a battle ranking stage where the player has to challenge the AI in a hundred fighter challenge. Moving a spot above after beating who ever is next in the ranking. The fighting mechanics have also been enhanced from the preceding 2 games making the game closer to its anime counterpart in terms of combat (which was well received by fans of the series and gamers alike). Budokai 3 has a roster of 42 playable characters in recent releases of the game.
Table of Contents