Jump to navigation
Jump to search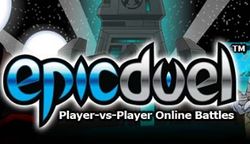 EpicDuel is a free to play MMORPG by Artix Entertainment. The game was released on December 5, 2009. It has similar graphics to that of all other Artix Entertainment games and uses a combat system like them as well. Combat is turn based.
Unlike most RPGs, EpicDuel has no quests or continuing plot. The goal is to become the best player versus player combatant and to maintain the most points as part of allied groups of players. These groups are formed and used similarly to "Guilds" in other games, and are part of one of two major factions: Legion and Exile.
The game takes place on a foreign planet in the far future. It combines science fiction with fantasy in that players use both melee weapons, firearms, and magic. Players can also obtain motorcycles.
Table of Contents