Jump to navigation
Jump to search
This is the first game in the Great Sluggers series. For other games in the series see the Great Sluggers category.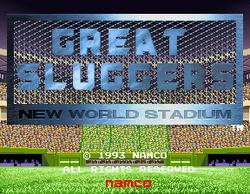 Great Sluggers (full title: Great Sluggers: New World Stadium グレートスラッガーズ: ニューワールドスタジアム, lit. Gurēto Suraggāzu: Nyū Wārudo Sutajiamu), is a baseball arcade game released by Namco in 1993 only in Japan. It's the first game to run on the company's then-new NB-1 hardware (a Motorola 68EC020 primary microprocessor running at 24.192 MHz, with a Mitsubishi M37702 sub-microprocessor running up at 16.128 MHz and a C352 custom sound chip running up at 24.192 MHz for sound).
Gameplay
[
edit
]
The gameplay is largely similar to that NS2 (1991-93) era of Namco's own World Stadium series, in which both players must take controls for two of twelve real-life Japanese baseball teams in the Central and Pacific Leagues, then select one of four stadiums for the match to take place in - and two are carried over, from all the WS titles (but the Kōshien has been renamed, to the "Trad"), while the other two were invented specifically for this game. All of them also feature advertisements for older Namco games, including Starblade, Pac-Man, Mappy, Pac-Land, Dig Dug, Net-tō! Geki-tō! Quiz-tō!!, Final Lap, Emeraldia, Numan Athletics, and their then-existent "Wonder Eggs" theme park, in Tokyo.
Table of Contents