Jump to navigation
Jump to search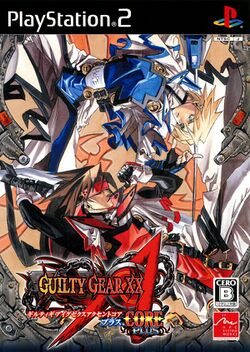 Guilty Gear XX Λ Core Plus (ギルティギア イグゼクス アクセントコア プラス (Giruti Gia Iguzekusu Akusento Koa Purasu, ギルティギア イグゼクス アクセントコア プラス?)) is an enhanced version of Λ Core and was released on March 27, 2008 for the PS2 in Japan. No changes to the battle system have been made, but new features were added. Features include the return of Kliff and Justice, with appropriate changes and additions made for the game, the return of Mission mode, a new Survival mode with level-up features, a new Gallery mode with new illustrations, and bug fixes, rebalances, and tune ups from the previous version.
Λ Core Plus also features a new Story mode. The story is a continuation of the storyline from Guilty Gear XX. All characters have a storyline, and the stories cover the major events involving the mystery of Gears, "That Man" and conflict with the Post War Administration Bureau, etc. The mode uses a full branching path Zapping system with a total of 350 scenarios. The game also introduces a new NPC character: the Post War Administration Bureau scientist Crow, who attacks the cast in the Story mode using mindless clones of Justice.
A version for the PlayStation Portable was released on July 24, 2008 in Japan.
Table of Contents
Remakes & Revisions
Appendices