Jump to navigation
Jump to search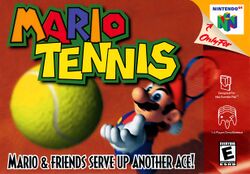 For the Game Boy Color version, see Mario Tennis (Game Boy Color). For the Virtual Boy game, see Mario's Tennis.
Mario Tennis (マリオテニス64, Mario Tenisu 64?, Mario Tennis 64) is a video game that was developed by Camelot Software Planning and published by Nintendo for the Nintendo 64 in 2000. This is the sixth Mario game for the Nintendo 64. A sports game in the vein of Mario Golf, Mario Tennis gathers allies and foes of Mario together to play tennis. Through the use of an N64 Transfer Pak, characters can be imported from the Game Boy Color version. Player stats can also be imported.
This game is notable for the introduction of Waluigi, an antagonist of Luigi and brother to Wario, the reintroduction of Princess Daisy (her last appearance was as Luigi's caddy in the 1991 game NES Open Tournament Golf), and the first-ever appearance of Birdo as a controllable character. This game is also the first Mario game where Princess Peach spurts out hearts when hitting the ball; which has remained in subsequent Mario sports titles.
In 2010, it was released for the Wii Virtual Console, albeit without Transfer Pak functionality and the Ring Tournament.
The game uses a control system that differs from most other video tennis games on the market. Shots are performed by pressing one, or both, of the two main buttons, which make the ball spin in different ways. Pressing a button twice strikes the tennis shot with more power and spin. Additionally, pressing the two buttons in a different order can result in a different type of shot altogether, such as a lob or drop shot. Both buttons can be pressed at the same time to hit a very powerful smash shot. The longer a button is pressed before contact is made with the ball, the stronger the shot will be. The control system allows players of all levels to become familiar with the mechanics of the game within a very short time, whilst also encouraging advanced players to take advantage of the variety of shots on offer to come up with different strategies for winning points. A total of seven types of shots are possible using only the two main buttons of the controller.
These gameplay mechanics were later brought to the other games of the Mario Tennis series in Mario Tennis GBC, Mario Tennis: Power Tour, and Mario Power Tennis.
Table of Contents