Jump to navigation
Jump to search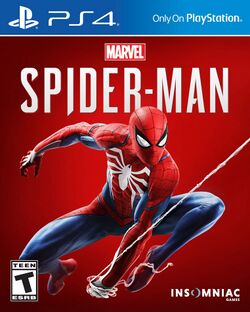 Marvel's Spider-Man, commonly referred to as Spider-Man, is an action-adventure game developed by Insomniac Games and published by Sony Interactive Entertainment for the PlayStation 4, based on the Marvel Comics superhero Spider-Man. Released worldwide on September 7, 2018, it is the first licensed game developed by Insomniac. The game tells a new story about Spider-Man that is not tied to an existing comic book, video game, or film, and covers both the Peter Parker and Spider-Man aspects of the character.
The events of Spider-Man are set 8 years into Parker's superhero career, having become an experienced and masterful crime fighter, but struggling to balance his superhero and personal lives. The story opens with Spider-Man having incarcerated many of his foes including Scorpion, Vulture, Electro, and Rhino, and finally taking down his longtime nemesis Wilson Fisk. Fisk is sent to prison, but warns that he was the only person maintaining order in the city. True to his word, Fisk's absence gives rise to a supernaturally powered, demonic-mask wearing gang called the Demons who begin carving up the city for the powerful Mr. Negative, who can corrupt people through his touch.
Gameplay
[
edit
]
Spider-Man is an action-adventure game set in an open world modern-day New York City and played from a third-person perspective. It features combat systems such as aerial combat, Spider Sense reflexes, web-shooting, and finishing moves. Spider-Man can push attacking enemies off of buildings, though Spider-Man does not let them fall, webbing them to the side of the building. The player is able to use Spider-Man's abilities such as web slinging and wall-crawling as well as other gameplay elements such as the ability to traverse using parkour, and the crafting and use of gadgets and alternative suits with special powers. Environmental combat, quick time events and stealth are also featured in the game. Peter Parker (outside of his Spider-Man identity), Miles Morales, and Mary Jane Watson are also playable in certain parts of the game. Peter's sections often involve solving puzzles, while Mary Jane's and Miles' segments involve using stealth to get to certain positions.
A free update released on October 19, 2018 added a new, more challenging difficulty mode (called "Ultimate" as a nod to the Ultimate Spider-Man comic book series) as well as a New Game+ mode (which allows all Suits, Skills, and Gadgets unlocked in a previous playthrough to carry over to the next). Two new trophies were also added (for beating the game on Ultimate difficulty and for clearing a New Game+ file), though they are not required for the Platinum trophy.
Table of Contents